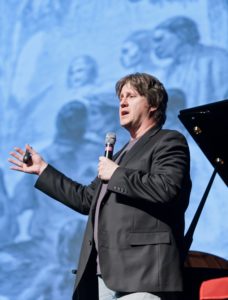 If you have a piano, a group of friends, and an interest in music and the brain then this perk is for you! Dr. Sherman has given presentations to audiences around the world (including a recent performance at Severance Hall, home of the world-famous Cleveland Orchestra) on the subject of Music and the Brain. Now, you can have Dr. Sherman perform live music and lead a discussion on the latest neuroscience research showing how music affects the brain and brain aging in your own living room (date and time to be arranged).
Dr. Larry Sherman is a Professor in the Department of Cell and Developmental Biology and in the Neuroscience Graduate Program at the Oregon Health & Science University. He is also the President of the Oregon Chapter of the Society for Neuroscience. He has over 80 publications related to brain development and neurodegenerative diseases including Alzheimer's disease and multiple sclerosis. He serves on a number of national scientific review panels for the National Institutes of Health, the Congressionally-Directed Medical Research Programs, and others. He has made numerous television appearances, discussing various topics related to neuroscience. He has also given hugely popular talks and performances (including playing the piano) around the globe on topics that include music and the brain, the neuroscience of pleasure and love, and a deeply personal presentation dealing with his recently discovered biological family and exploring the contributions of genes and environment to brain development and personality. The Oregon Museum of Science and Industry and Portland Monthly Magazine recognized Dr. Sherman as one of the most innovative people in the State of Oregon. He was also the 2012 Teacher of the Year at the Oregon Health & Science University School of Medicine.
Fine print: This presentation must take place within a 50-mile radius of downtown Portland, Oregon, or additional travel expenses may apply, and it must be held on or before December 1, 2015.